A few months ago I created a video tutorial about 10 Art Hacks using old credit cards or gift cards. Today I have a new video with 10 More of these Art/Craft Hacks. I had some art hack suggestions from my subscribers and I also thought of some more and came up with this new video.
Here is the link to the first video and below is the new one with 10 more Art hacks:
Now I just want to announce the winner of my Favorite Projects of 2017 Blog Hop.
The Winner of my giveaway is: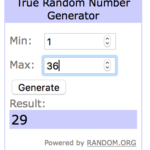 Congrats Linda email me your address so I can send you your prize at kerentamir@sympatico.ca
Thank you so much for visiting my blog
Have a wonderful day!!
1,329 total views, 2 views today