I know I told you guys that I'm continuing on the DT for Scrap for Help!!
I just wanted to show you the announcement and the amazing DT lineup we have!!
hope you come and participate with us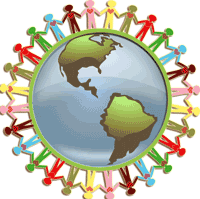 Hello, everyone! It is so nice to see you here on our blog.
Today we want to share with you some exciting announcements about Scrap for Help.
We are happy to introduce our new design team for 2013! It is a big team, with 32 amazing designers from around the world.
These are the people who will inspire you, month after month, to make layouts and projects that incorporate recycled materials. You will see many familiar faces here, and many new faces as well.
Our team members come from different countries, and they truly represent the international solidarity that is so important to Scrap for Help.
Since we have so many team members, we are dividing into two groups. The first group will share projects with you during odd-numbered months (January, March, May, etc.), while the second group will share projects during even-numbered months (February, April, June, etc.).
You can also expect to receive comments from team members on your blog, when you link to Scrap for Help. We look forward to interacting with you!
So, let's meet the team!
-Cindy Adkins (United States)
-Naiara Cicilia (Brazil)
-Barbara Caitete (Brazil)
-Paula Castells (Brazil/Germany)
-Andrea Castro de Albuquerque (Brazil)
-Anupama Choudary (India)
-Fanny Delobel (France)
-Lean de Ruiter (Netherlands)
-Dani de Sá (Brazil)
-Bente Fagerberg (Sweden)
-Juraci Falcucci (Brazil)
-Aline Fonseca (Brazil)
-Patti Hamil (USA)
-Chantelle Huizenga (Australia)
-Shona Keehn (Canada)
-Maiko Kosugi (Japan)
-Solange Marques (Brazil)
-Leonie Neal-Dawson (Australia)
-Elena Olinevich (Belarus)
-Denise Price (United States)
-Lydell Quin (Australia)
-Rita Ribeiro (Brazil)
-Marilyn Rivera (Puerto Rico)
-Sarah Routledge (Canada)
-Elisabeth Sarkis (Brazil)
-Meg Stoco (Brazil)
-Kylie Symons (Australia)
-Keren Tamir (Canada)—- this is me!!
-Yuko Tanaka (Japan)
-Marcela Valadares (Brazil)
-Gerry Van Gent (Netherlands)
-Margreet Westerling (Netherlands)
To learn more about these team members, you can read their biographies by clicking the "Design Team" tab in the Scrap for Help blog header.
These team members' terms will begin in 2013.
Please continue to play along with us for the rest of 2012, as well–our current design team has many great ideas to share with you.
Remember, the most important rule here at Scrap for Help is that you MUST use a recycled item in your project. (A certain type of item will be specified each month.)
You can choose how to incorporate this item–maybe you will adhere it directly to your project, or maybe you will use it in some other way (for example, as a stamp or a stencil). When you link your project to Scrap for Help, please make a quick note, somewhere in your blog post, about how you used the recycled item.
Let's share our ideas!
Our current team is looking forward to seeing some great projects from you during the remainder of 2012, and our new team is excited to meet you in 2013!

Look at that DT lineup!!!
There is a lot of familiar names up there!
Well that's all for now! Have a fantastic Day!!
2,547 total views, 10 views today