Hi Everyone,
This is the last day to get the Art Bundle for Good #3. There are 100 art courses, ebooks and other amazing resources that can help improve every aspect of your art.  Even just 2 or 3 of the courses in the bundle will more than cover the purchase price.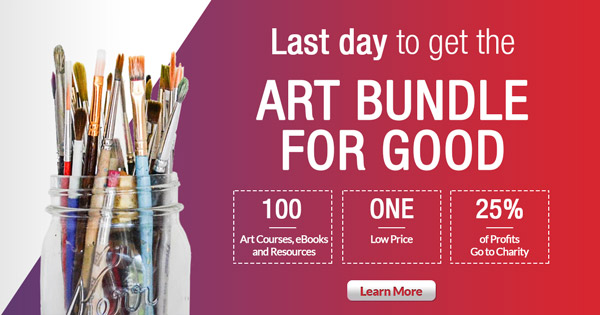 If you haven't already then let me tell you it is so worth it!! The list of courses and artists is just phenomenal. Scroll down to see the list of all the courses. (warning: its really long!!)
Becoming a better artist requires investing in yourself. You need to invest the time to create, to learn new techniques, and to hone your skills.
Learning from some of the best artists and teachers will save you hundreds of hours of your own trial and error. We all know how good it feels to create, particularly when we can see our own improvement and start to master a skill that was previously beyond reach.
Visit the Art Bundle for Good website to see all the great products included.
Here is the list of all the courses offered!! Isn't it amazing??? There's 100 of them!!!
YES 100!!!
Course List
Mixed Tape Volume I (Effy Wild – effywild.com) Value $80

7 Course Track: Beginner Breakthroughs (Pencil Kings – pencilkings.com) Value $105

Color Theory for Artists: A Complete Beginner's Guide (Patricia Caldeira – doncorgi.com) Value $100

Journey with the Light (Tamara Laporte – willowing.org) Value $23

Using Critical Analysis to Improve Your Drawing Skills (Michelle Tabares – michelletabares.com) Value $25

Rock Your Online Art or Craft Shop Class (Jennibellie – journalworkshops.ning.com) Value $103

Fawn and Forest(Micki Wilde – secrethermit.typepad.com) Value $48

Animal Antics (Tracy Verdugo – tracyverdugo.com) Value $65

Digital Illustration: Develop Your Own Style (Sydney Height – othellophi.com) Value $59

Mini Gut Art 2015 (Mystele Kirkeeng – mystele.com) Value $50

"Into the Myst" Workshop (Katrina Koltes – katrinakoltes.com) Value $57

Back 2 Back Collage (Dina Wakley – dinawakley.com) Value $75

Creative Explorer Lessons (Andrea Gomoll – andrea-gomoll.de) Value $91

Abstract Watercolour Flowers (Iris Fritschi-Cussens – iris-impressions.com) Value $45

5 Landscape Pack (Colin Bradley – colinbradleyart.com) Value $26

Watercolor with Me: Fun & Fabulous Flamingo (Jessica Sanders – colormecreativeart.com) Value $25

Angels Escape (Renata Loree – renataloree.com) Value $45

Selling Notebooks & Low Content Paperback Books On Amazon $199 (Rob Cubbon – robcubbon.com) Value $199

Mandala and Leaf Painting Workshop Bundle (Faith Evans-Sills – faithevanssills.com) Value $70

Create Fun Patterns Easily For Sketching, Doodling and Lettering (Shelley Hitz – yourcreativeadventure.com) Value $39

Intuitive Mandala Mediations (Shelley Klammer – expressiveartworkshops.com) Value $39

The Tangled Sanctuary – Zentangle-inspired Art Journaling (Sadelle Wiltshire – sadellewiltshire.com) Value $39

How to Draw Eyes Accurately – Part I – Sketch (Emmy Kalia – emmykalia.com)  Value $5

The Creative Inspiration Bundle for Artists (Bonnie Glendinning – theartistsmentor.com) Value $90

Painting Watercolor Textures (Andy Walker – artclasspro.com) Value $30

Monochrome Love (Olga Furman – olgafurmanart.com) Value $36

Colorful Portrait, Limited Palette (Lucy Chen – lucychenfineart.com) Value $29

Bloom True Bootcamp: Thirty Days of Prompts to Ignite Your Creative Fire (Flora Bowley – florabowley.com) Value $39

Character Design Crash Course: Dynamic Design in Four Steps! (Melissa Lee – melissaleedesign.com) Value $45

Flying Free Art Journaling Class (Jennibellie – journalworkshops.ning.com) Value $52

The Gift of the Present (Mary Beth Shaw – stencilgirlstudio.com) Value $29

Meditation Girl (Tamara Laporte – willowing.org) Value $23

Masterful Art Journaling (Dina Wakley – dinawakley.com) Value $65

What's in a Face? (Mystele Kirkeeng – mystele.com) Value $40

Learn to Paint an Abstract Landscape Painting (Jacquie Gouveia – jgouveia.com) Value $40

"Soul Whispers" workshop (Katrina Koltes – katrinakoltes.com) Value $34

Vintage Whimsy in Wax (Diana Riukas – serenitystudioart.com) Value $53

My Inner Wizard (Jenny Grant – flowbyjenny.com) Value $35

The Tale of Two Sisters (Karine Bosse – kabostudio.com) Value $35

How to Draw Majestic Animals: Cats | Master Drawing Animals (Patricia Caldeira – doncorgi.com) Value $80

Chalk It Up Mixed Media Course (Angela Kennedy – pennystamper.blogspot.com) Value $40

Mandala Fun – Hand Drawing in Symmetry (Jane Snedden Peever – jspcreate.com) Value $35

If The Crown Fits Mixed Media Project (Nadine Larder – nadinelarder.com) Value $70

Fearless Expression (Annie Hamman – anniehamman.com) Value $75

Draw Islamic Geometric Patterns With A Compass And Ruler (Samira Mian – samiramian.uk) Value $63

8 Course Track: Getting Started: Doodles to Full Cartoon Figures (Pencil Kings – pencilkings.com) Value $120

Painting large with Encaustic (Lora Murphy – loramurphypaintings.com) Value $60

Mixed Tape Volume II (Effy Wild – effywild.com) Value $80

Jump Trust Repeat (Jessica Swift – jessicaswift.com) Value $77

From Acrylics to Oil Painting in 5 Easy Steps (Malcolm Dewey – malcolmdeweyfineart.com) Value $25

DIY Recycled Flower Embellishments Video Tutorial (Jennibellie – journalworkshops.ning.com) Value $11

Faux Metal Enameled Painting – No Kiln Needed (Prerna Poojara – prernapoojara.com) Value $30

Drawing Cartoons (Colin Bradley – colinbradleyart.com) Value $26

Painting the Eye (Lauren Rudolph – laurenrudolph.com) Value $35

30 Texture Ideas (Keren Tamir – kerentamir.com) Value $25

A Journey Into Colour (Iris Fritschi-Cussens – iris-impressions.com) Value $25

How to Blend with Colored Pencils – Draw a Sphere (Emmy Kalia – emmykalia.com) Value $5

French Cursive Calligraphy Online Course – A Tour of France (mary-jane roussel – creatuto.com) Value $20

Herb Studies Workshop (Kelly Johnson – wingswormsandwonder.com) Value $15

Soulful Portraits 1 (Renata Loree – renataloree.com) Value $45

Colour Vibe (Donna Munro Art – donnamunro.net) Value $30

Digital Illustration: Color Mastery Level 1 (Sydney Height – othellophi.com) Value $59

Create Beveled Lettering in Adobe Illustrator (Natanael Gama – ndiscovered.com) Value $23

Designing and Drawing Meaningful Interiors That Tell a Story (Michelle Tabares – michelletabares.com) Value $43

How to Draw Like a Master- Drawing a Hand (John Battalgazi) Value $30

Fantasy Florals: A Mixed-Media Art Journaling Tutorial (Jessica Sanders – colormecreativeart.com) Value $20

Getting Started with Brush Lettering (Jenn Coyle – hellobrio.com) Value $29

Painting Skin Tone with Watercolors (Melissa Lee – melissaleedesign.com) Value $24

Miniature Succulent Garden | Polymer Clay Sculpture (Stéphanie Kilgast – petitplat.fr) Value $30

Let's Make a One Page Auto-Biographical Comic (Michelle Tabares – michelletabares.com) Value $31

Impressionistic Poppies on Glass (Jennifer Bonneteau – jenbonart.com) Value $25

Introduction to Drawing – 10-Week Drawing Course for Beginners (Brenda Hoddinott – drawspace.com) Value $20

Be A Heart Beginner Modern Calligraphy Workbook (Erica Tighe – beaheart.com) Value $15

How to Make a Value Scale (Emmy Kalia – emmykalia.com) Value $5

Writing and Designing Memorable Characters (Michelle Tabares – michelletabares.com) Value $43

Social Media Strategy for Artists (Alix Sloan – practicalartists.com) Value $29

InDesign, Illustrator & Photoshop For Complete Beginners (Peter Bone – peterbone.com) Value $40

Acrylic Painting for Absolute Beginners: The Complete Guide (Ashley Picanco – ashleypicanco.com) Value $15

Mixed Tape Volume III (Effy Wild – effywild.com) Value $80

Flowers: a Step-by-Step Guide to Master Realist Techniques in Graphite and Colored Pencil Painting (Veronica Winters – veronicasart.com) Value $16

"What I See" Painted Quilts (Mystele Kirkeeng – mystele.com) Value $15

French Cursive Calligraphy Workbook – A Tour of France (mary-jane roussel – creatuto.com) Value $12

Asking a Shadow to Dance (Mary Beth Shaw – stencilgirlstudio.com) Value $19

An Artist's Survival Guide (Malcolm Dewey – malcolmdeweyfineart.com) Value $3

Veggie Studies Workshop (Kelly Johnson – wingswormsandwonder.com) Value $15

Be A Heart Brush Lettering Workbook (Erica Tighe – beaheart.com) Value $15

How to Draw Gesture (Stan Prokopenko – cubebrush.co/proko) Value $15

Digital Illustration: Color Mastery Level 2 (Sydney Height – othellophi.com) Value $59

Soulful Portraits 2 (Renata Loree – renataloree.com) Value $45

Designing Clothing For Characters (Linda Vuorenvirta – linda-vuorenvirta.com) Value $17

Angel of Letting Go (Tiare Smith – embrace-your-art.teachable.com) Value $20

Productivity for Creative People (Mark McGuinness – lateralaction.com) Value $8

Turn a Little into a Lot (Tamara Laporte – willowing.org) Value $13

Figure Drawing From Life: Tools, Techniques, and Tricks (Donelli J. DiMaria – donelli-dimaria.pixels.com) Value $10

How to Draw, Shade Realistic Eyes with Graphite Pencils – Part II – Shading (Emmy Kalia – emmykalia.com) Value $5

Summer Lovin Art Journaling Lesson (Jennibellie – journalworkshops.ning.com) Value $6

Create Beautiful Abstract Artworks on iPhone / iPad (Jorge Luis Miraldo – shorsh.com) Value $8

Design Your Own Fonts. Plus A Bunch Of Typography Secrets. (Natanael Gama – ndiscovered.com) Value $46

A Complete Beginner's Guide to Travel Journaling (Michelle Tabares – michelletabares.com) Value $37

Learn How to Shade with Charcoal and Graphite Pencils (Emmy Kalia – emmykalia.com) Value $5
8,355 total views, 12 views today