Hi Everyone,
I created an altered mixed media guitar using Finnabair Art Alchemy Waxes to color it. I embellished with several metallic embellishments as I wanted to have a vintage looking decoration for my room.
Scroll down to see the step by step video tutorial along with links to all the products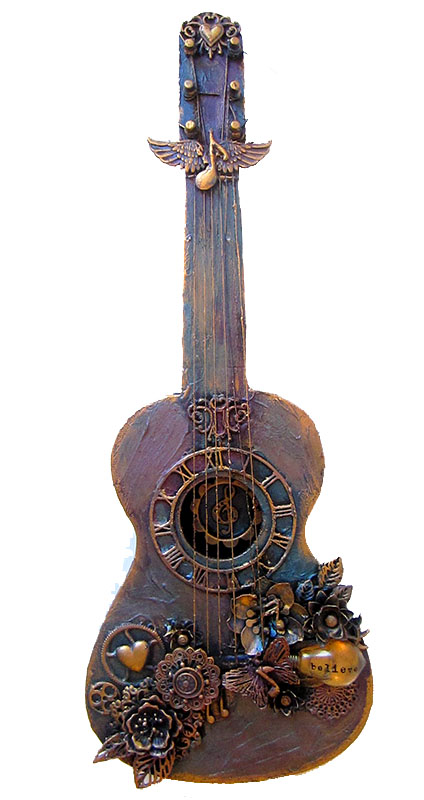 Here is the video tutorial:
Here are some close-ups. You can really see the texture and all the details.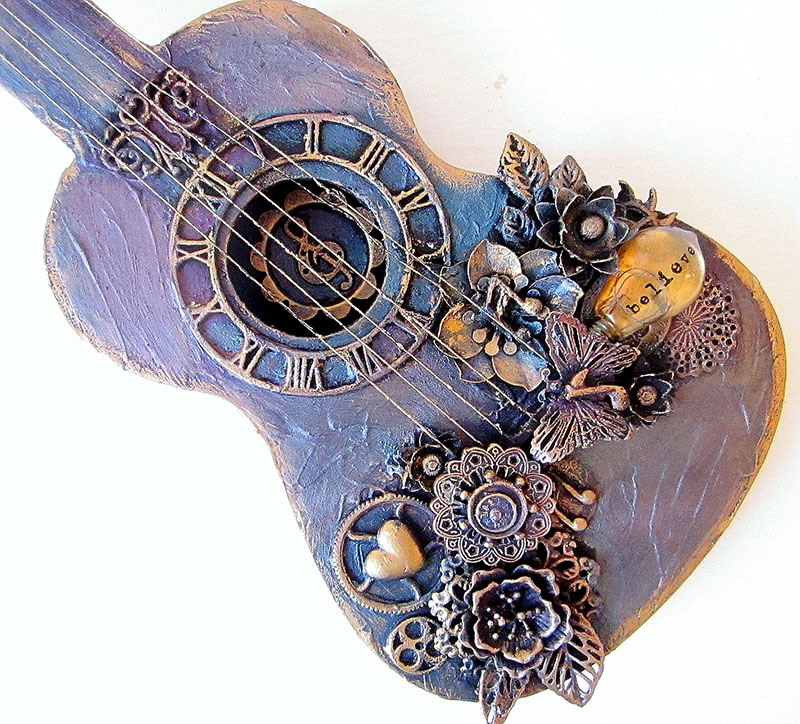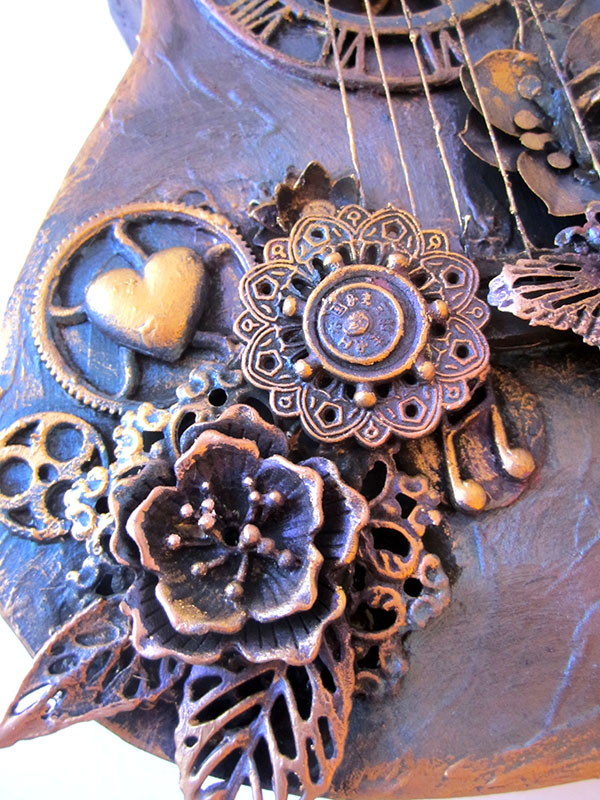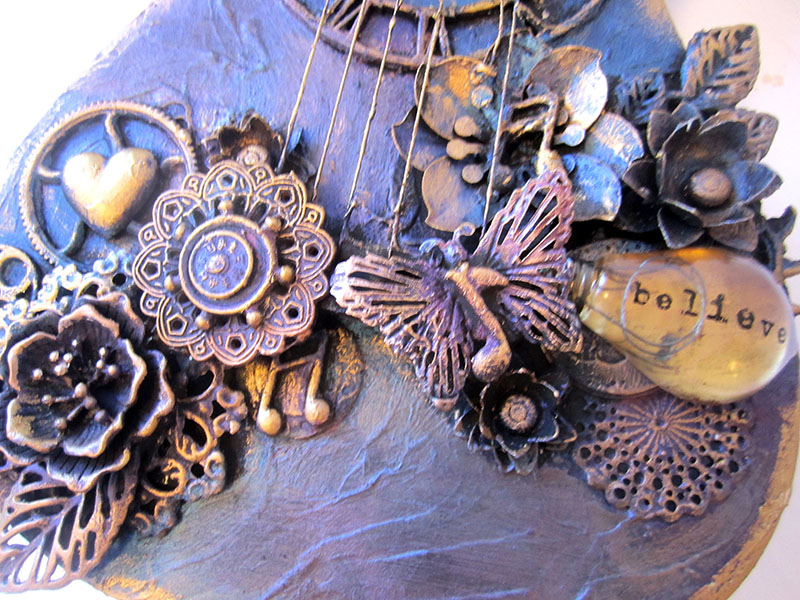 I really love the embellishment I added inside the acoustic hole of the guitar. It adds a beautiful final touch.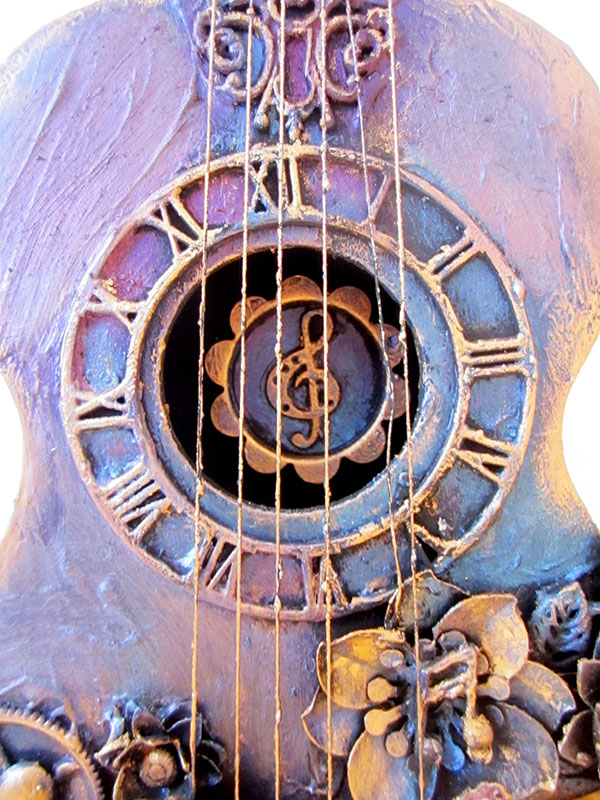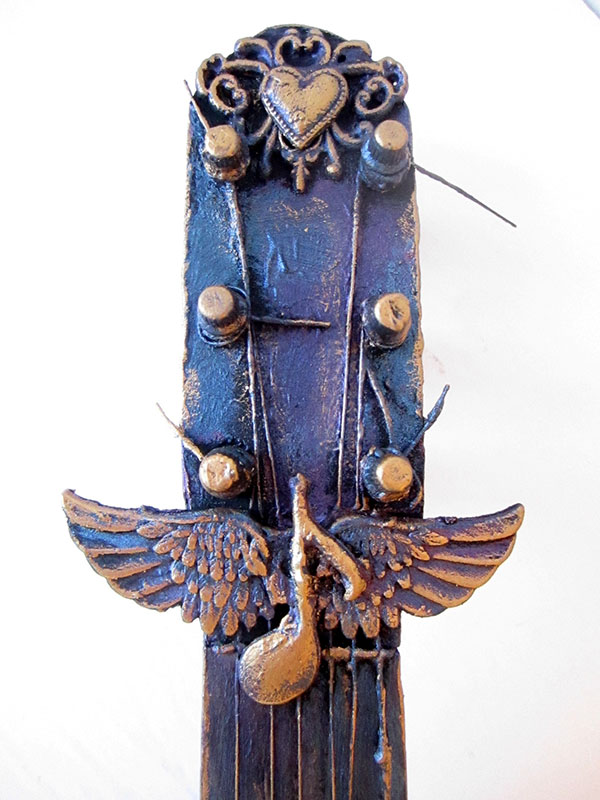 Below are links to all the products I used.I only use products that I love. These are affiliate links. When you press on these links I get compensated by the company that sells them at no extra cost to you. You don't need to purchase the products if you don't want to, but if you do, then pressing on the links will support me and help me create more FREE videos.. You can read my disclaimer on the About Me section of my blog.
| | | |
| --- | --- | --- |
| Children's 4-String Acoustic Guitar… | 23″ 6-String Acoustic Guitar – Kids… | Happy Tune 6 String Acoustic Guitar… |
| Prima – Art Basics – Heavy Gesso -… | Prima – Finnabair – Art Basics -… | Prima – Art Extravagance – Texture… |
| Prima – Finnabair – Art Alchemy -… | Finnabair Art Alchemy Antique… | Prima Finnabair Art Alchemy Vintage… |
| Prima – Sunrise Sunset Collection -… | Prima – Finnabair – Mechanicals -… | Finnabair Mechanicals – Winged [962432] |
| Prima – Finnabair – Mechanicals -… | Prima Marketing 963439 Rustic Gears… | Prima – Finnabair – Mechanicals -… |
| Prima – Finnabair Mechanicals -… | Prima – Finnabair Mechanicals -… | Prima Finnabair Mechanicals Flowers |
| Prima – Finnabair – Mechanicals – Tin… | Prima – Finnabair – Mechanicals -… | Prima Marketing 655350583545 Metals… |
| Prima – Junk Yard Findings Collection… | Prima Marketing 655350584900 Metal… | Prima – Finnabair – Art Basics -… |
| Prima – Finnabair – Art Basics -… | Prima – Finnabair – Art Basics -… | Prima – Finnabair – Brush Set – 7 Pieces |
| Ken Oliver – The Best Ever Craft Mat | Ken Oliver – Best Ever Craft Mat… | Ranger Ink – Inkssentials – Heat It… |
3,913 total views, 1 views today