Hi Everyone,
Welcome again to my website!!!! today I have an art journaling tutorial using the marbled background I created a few days ago. This project follows the previous post where I used Marabu Easy Marble to create marbled background. This is one of the backgrounds an I altered it to design an art journal spread.
Scroll down below to see my video tutorial and the links to all the products:

Here is the video tutorial:
To see the original video on how I created the marbled background press HERE
and here are some close-ups: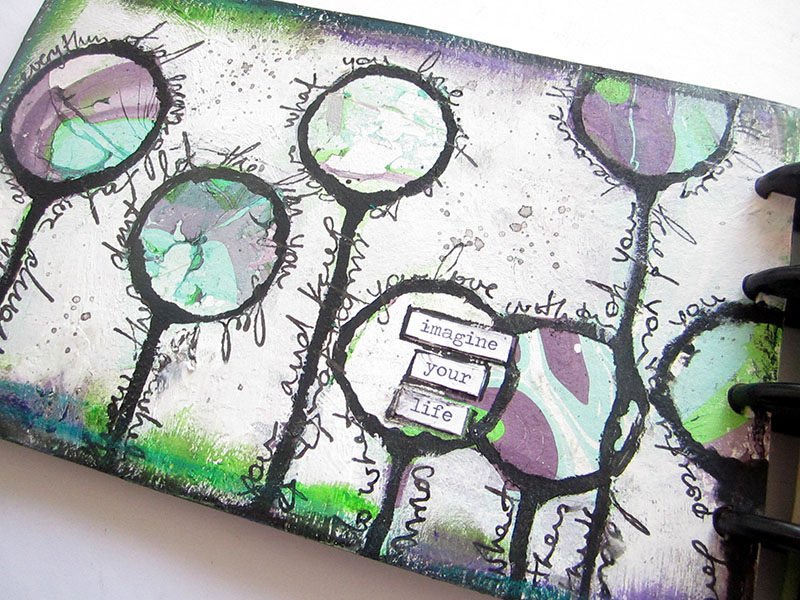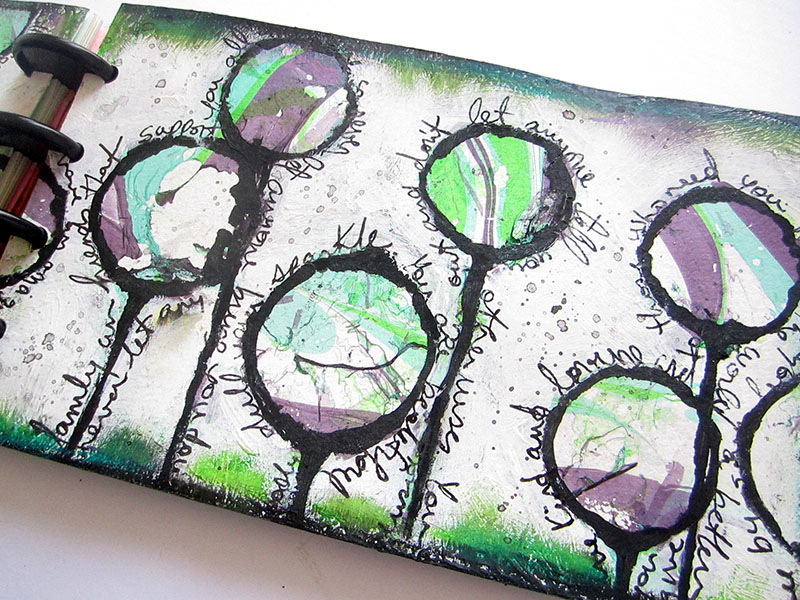 Below are links to all the products I used.I only use products that I love. These are affiliate links. When you press on these links I get compensated by the company that sells them at no extra cost to you. You don't need to purchase the products if you don't want to, but if you do, then pressing on the links will support me and help me create more FREE videos.. You can read my disclaimer on the About Me section of my blog.
| | | |
| --- | --- | --- |
| Joggles Disc Bound Watercolor Journal… | Donna Downey Stencils DD-ST-42… | Marabu Easy Marble – Aubergine [039] |
| Marabu Easy Marble – Light Green [062] | Marabu Easy Marble – Medium Yellow [021] | Marabu Easy Marble – Reseda [061] |
| Marabu Easy Marble 070 White 15ml | Marabu Easy Marble 98 Turquoise 15ml | Marabu Easy Marble 084 Gold 15ml |
| Marabu Easy Marble 082 Silver 15ml | Marabu Easy Marble – Crystal Clear [101] | Marabu Easy Marble – Rich Green [067] |
| Marabu Easy Marble 090 Light Blue 15ml | Marabu Easy Marble 297 Aqua Green 15ml | Marabu Easy Marble 055 Dark… |
| Marabu Easy Marble 095 Azure Blue 15ml | Marabu Easy Marble 033 Rose Pink 15ml | Marabu Easy Marble 020 Lemon 15ml |
| Prima – Finnabair – Art Alchemy -… | Prima – Finnabair – Art Alchemy -… | Ranger Ink – Fude Ball Pen – Black |
| UNI-BALL POSCA MARKER PEN PC-3M -… | Marabu Art Crayon – Aqua Green [297] | Marabu Art Crayon – Black [073] |
| Marabu Art Crayon – Plum [037] | Marabu Art Crayon – Apple [158] | Marabu Art Crayon – Kiwi [155] |
| Tim Holtz Idea-ology Small Talk… | Clippings Stickers by Tim Holtz… | Brea Reese – Dabbers – Fine Sponge |
| 3 Sets Round Stencil Sponge Wooden… | Prima – Finnabair – Brush Set – 7 Pieces | Ken Oliver – The Best Ever Craft Mat |
| Ken Oliver – Best Ever Craft Mat… | Ranger Ink – Inkssentials – Heat It… | Prima – Finnabair – Art Basics – Soft… |
9,372 total views, 1 views today